Been a band for 10 years still nobody knows what to make of Lame Drivers: "a young Replacements or Guided By Voices?" "like the Buzzcocks getting a reacharound from the Descendents?" "Pell Mell?" "Jesus & Mary Chain?" "the Clean as a girl group doing a talkie?" "Killed By Death / Memb. Home Blitz?" WFMU's Terre T calls it "all my favorite rock elements." Led by fellow WFMU DJ Jason Sigal, Lame Drivers treat the band like a freeform radio show channeling everything from Ethiopiques to Krautrock through a classic power trio. "Teenline power pop is their natural fighting weight," KFJC's Thurston Hunger writes in a review that picks out bits of everything from Graham Parker to Jay Reatard, "but they'll weird it up!"
* in 2011, New York Rock Market claimed that "Lame Drivers Have Not Received The Recognition They Deserve From The Internet". Unrelated, Lame Drivers independently released Cruisin' Classics 2003-2010, a 27-song mp3 sampler for free online under a Creative Commons license. It's since had 5000+ downloads with heavy airplay on WFMU and spins on WNYU, WPRB, WMBR, WZBC, WAIF, KXLU, KDVS, KUSF, KFJC, East Village Radio and beyond, including use in some puppy videos.
* In 2013 Lame Drivers will release a crowd-funded Flexi-Book EP and Debut LP, touring the US with The Woolen Men (Woodsist).
* Lame Drivers have also released tapes, cd-r's and compilation tracks on 75 Or Less, Not Not Fun, State Capital Recordings, Eggy Records, Dirty Pillows, LCMR. and several sets of new material are on the way including a Flexi-Book EP, Debut LP, a split 7″ with The Woolen Men on Sleeping Giant Glossolalia.
* Lame Drivers have played shows in over 20 states with the likes of Flipper, Kurt Vile, Oxford Collapse, The Gossip, Vic Thrill, We Are Wolves, Frightened Rabbit, German Measles, Cause Co-Motion, Home Blitz, So Cow, Soft Pack, Total Abuse, Dinowalrus, Clockcleaner, Doug Gillard, Senator R. Stevie Moore, Noveller, Bird Names, Tonstartssbandt, Sisters, My Teenage Stride, Big Troubles, Jeff The Brotherhood, and Buttnaked Butthole…we like to play!
* Members also played in Home Blitz, Capstan Shafts, Get Him Eat Him, Kleenex Girl Wonder, The Great Excape and Gutsies,
* Lame Drivers started in New Jersey, expanded in Providence RI, and were born again in Brooklyn NY. In the summer of 2009, Lame Drivers morphed into a 3-piece and is now leaner, darker, and more psychedelic. "You do more…with less" says Gerard.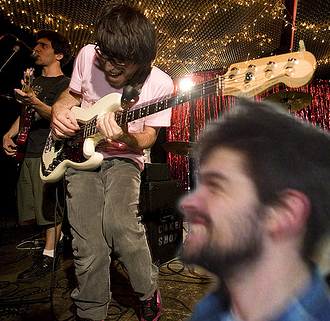 CURRENT LINEUP: Jason Sigal (guitar), Joe Posner (bass), Jeff Wood (drums)]